UK visa endorsement specialists accomplished endorsement approval within a day for IoT, AI, Agri-tech and FinTech product entrepreneur.
Mr. Rohan Vadgaonkar has been the co-founder and CEO at Carnot Technologies – an Agri-tech start-up on a mission to improve the incomes of farmers through technology – since May 2015. Having successfully won funding from Qualcomm, Whiteboard Capital and Mahindra & Mahindra, and having reached Series B funding stage, the start-up is now on an acquisition path with a $20Bn agri-tech conglomerate.
Rohan successfully scaled Carnot by pivoting from connected insurance to agri-tech, enabling him to build a team of 70 and grow to annual revenues of $2.5m within just 2 years. He has 8 years of experience in digital technology, working at the intersection of IoT, AI, Agri-tech and Fintech. Rohan's rich experience in product management, marketing and strategy, P&L ownership, building tech teams and fundraising is also clearly evident.
At Carnot, Rohan leads the development of Simha – an industry-defining product line of telematics for remote agricultural vehicle maintenance – which is protected by 5 patents (applied) and is utilised to cover crop and soil management of 1 million acres throughout Europe, Asia and Africa.
Rohan also led the product management for a user friendly accounting app for farmers which received 200,000 downloads in a year. Commenting on this particular product, he said "We were very proud to be awarded the Qualcomm Design in India 2017 award of $100K for our technology and patents at the hands of Hon. Cabinet Minister of India for IT".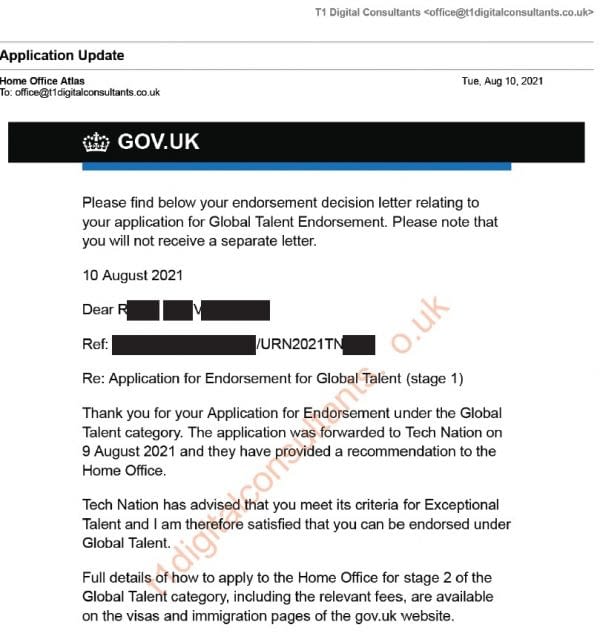 Due to our specialists' experience with the complex application process and understanding of the potential opportunities for Rohan within UK industry, our endorsement application paperwork for the Global Talent visa was confirmed by Tech Nation upon first application within less than a day! 
"Navin is highly knowledgable and well aware of what it takes to get the Tech Nation endorsement. He and his team work with you from the beginning to strategise your application and develop the required documentation based on your profile, plus they have a handy template library that is quite useful in developing the supporting evidence.
I didn't face any challenges in getting quick responses. Usually all my questions were answered in 1 business day (often also on weekends which is a huge plus for those with busy weekday schedules).
A great team to work with, highly recommended!"
Now, with the backing of Exceptional Talent under the visa programme, Rohan can progress his diverse market expertise in the UK whilst putting his already significant impact upon the tech industry to further great use across England, Wales, Scotland and Northern Ireland.
Speak with our friendly team today to find out about our comprehensive five-star services and excellent track record:
Enjoy a free initial consultation to discuss the opportunities that may be open to you in the UK today.
We provide clear guidance and can advise on whether you have the potential to meet the strict criteria set by endorsing bodies across the Global Talent visa, Start-up visa and Innovator visa programmes.
Just send us an email, give our experts a call or chat with us via WhatsApp.
Check out reviews from other happy customers and follow us on social media at