Global Talent Visa Endorsement for a Business Leader from Turkey
We are extremely proud to announce that on the 26th of May 2022, we received an Exceptional Talent visa endorsement approval from Tech Nation for the UK's Global Talent Visa.
Aytekin Güçlü, an experienced entrepreneur with superior leadership and stakeholder management skills, having nearly 10 years of experience in designing products containing software, electronic and mechanical technologies, establishing companies, and managing teams.
Mr. Güçlü's product design has been registered by the Turkish Patent Institute and successfully completed a state-sponsored project. It has been the subject of many news and articles and has increased the tactical superiority of the purchasing countries. American think tank The Jamestown Foundation confirmed this. He won the 2020 Best Research and Development Project of the Year Award at the IZTEK Innovation R&D and Technology Awards, and received a certificate of appreciation from the Government. It received high demand from countries that wanted to have this superior technology.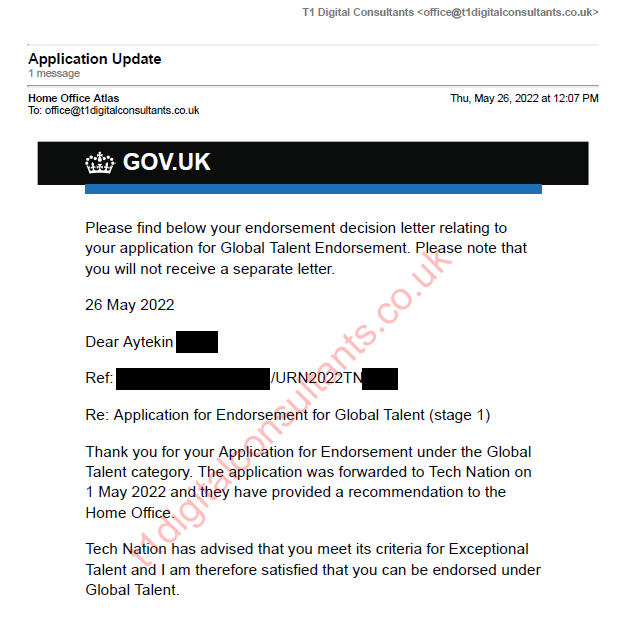 During the free discovery call that we offer, we reassured Mr. Güçlü that he would be eligible for a UK Tech Nation Global Talent Visa endorsement and as he believed that he would benefit from our team's years of experience, Mr. Güçlü put our specialists to work on his application straight away.
Our teams' "professional and effective approach" as well as in-depth knowledge of the criteria, complicated paperwork, trusted relationship with numerous endorsing bodies and end-to-end process, we were able to assist Mr. Güçlü in obtaining his visa endorsement for the Exceptional Talent category upon first application within a matter of weeks.
Now that Mr. Güçlü has the Tech Nation Global Talent Visa, he can continue to grow his professional network throughout the United Kingdom whilst growing his business clientele portfolio. Of course, we wish Mr. Güçlü all the very best on his journey and look forward to seeing him develop his much-desired technical talents.
Be like Mr. Güçlü and request a FREE 30 minute DISCOVERY CALL today!
With our specialists guiding you through the entire application journey, from start to finish, you too could get a UK Global Talent Visa endorsement!
OUR PROMISE TO OUR CLIENTS
We will always provide clear guidance and advise on whether you are eligible and would meet the strict criteria set by endorsing bodies across the United Kingdom's Global Talent Visa, Start-up Visa and Innovator Visa programmes.
Just send us an email, give our experts a call or chat with us via WhatsApp today on 0044 207 993 6286. 
Check out reviews from other happy clients and follow us on social media at