Successful UK Innovator Visa Endorsement Agreement for a Seasoned Entrepreneur
T1 Global team is proud to share our latest successful UK Innovator Visa application, keeping our 100% success rate for Startup and Innovator Visas!
Mr. Monodeep Samanta engaged with our Innovator visa specialists to discuss a new concept that he thought would be viable, scalable, attractive and innovative for the UK's booming digital economy. T1 Digital premium business team worked flat out securing the endorsement within 4 weeks.
Mr. Samanta is a multi-award-winning UX/UI designer and business consultant from the United Arab Emirates having over 14+ years of experience working as a branding expert with various companies ranging from small to large government enterprises.
The new business model is embracing an innovative approach to the market, with a dual business model that will complement exceptional technical and operational consulting services with a growing selection of training programs. The consulting exposure will help the founder identify potential shortcomings across the sector, and these insights – allied to those already known industry demands facing businesses as they prepare to embrace new technologies, consumer needs, design styles and tools, will influence the development of the training programs from the ground up, making them in a sense more effective, marketable and desirable.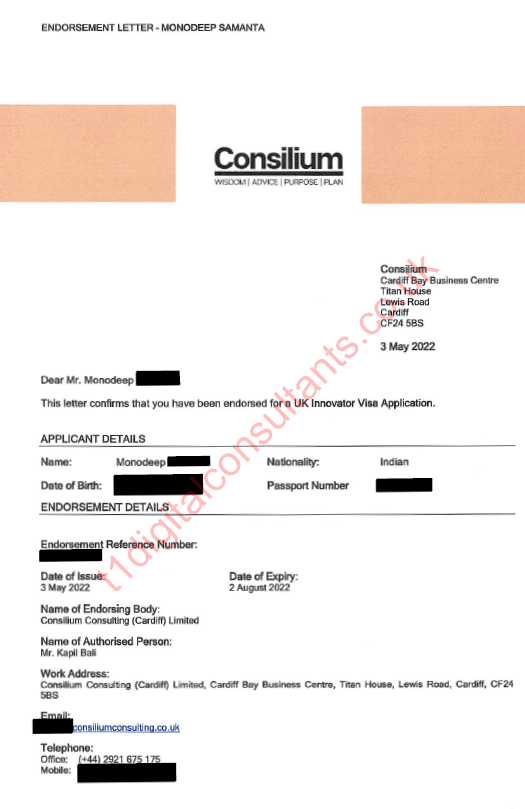 The UK's new Innovator visa is particularly relevant to unique entrepreneurs who wish to establish their business in the UK.
There are of course numerous criteria that must be met to qualify for endorsement (for instance, CEFR Level B2 in English), however our brilliant team is exceptionally well versed in the process of business plan development and can offer invaluable relevant guidance.
Following discussions with our dynamic business development team members who provided advice throughout the process, and with Mr. Samanta's inspiring business plan properly documented, the application was then submitted to the endorsing body who promptly approved the application.
"I am extremely satisfied with T1 Global's devotion and hard work during the process, and I am now the proud owner of a UK Innovator visa endorsement! I'm looking forward to launching my company in the UK soon!"
Of course, we are very proud of this result and hope to see Mr. Samanta's new business being used by inclusive and diverse teams from the United Kingdom and all over the world very soon.
Request a FREE 30 MINUTE CONSULTATION with our trusted Innovator visa endorsement team to find out if you could grow your business in the UK:
Our promise to our clients:
To provide clear guidance and advise on whether you have the potential to meet the strict criteria set by endorsing bodies across the United Kingdom's Global Talent visa, Start-up visa and Innovator visa programmes.
Find out more an email, give our experts a call or chat with us via WhatsApp today at +442079936286.
Check out reviews from other happy clients and follow us on social media at