First Time Application for Endorsement under the Global Talent Category Approved for Intuitive SaaS Entrepreneur
On the 6th of September 2021, Mr. Rohit Parthasarathy, a Senior Engineering Manager from India, was endorsed by Tech Nation as an Exceptionally Talented individual.
With more than 9 years experience in product design, people management, software architecture, design and infrastructure, Rohit has developed invaluable and transferable skills across numerous digital platforms and has a track record of product-led delivery across the USA, UK, EU and India. In addition to building products from scratch, Rohit has scaled existing products and teams, and become a specialist across numerous sectors including social media, IT and FinTech.
In his latest role at Chargebee, Rohit supports SaaS and SaaS-like businesses in eCommerce streamline Revenue Operations with a recurring billing and subscription management tool. Previously, Rohit co-founded two digital platforms – Stribr and Alchemy Reporting. Rohit used PHP, MySQL and JS at Stribr, a location based Instagram analytics dashboard that was featured in The Huffington Post and had customers across 20 countries. Prior to that, he utilised PHP, Python and MongoDB at Alchemy Reporting, a solution for enterprises that made data easy to digest using visually appealing d3 powered dashboards.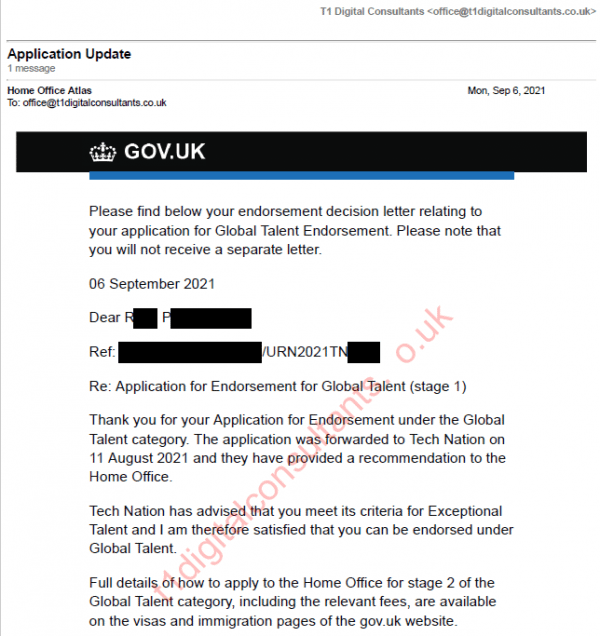 This inspiring young digital technology expert was referred to T1 Digital Consultants and following an initial free consultation to discuss the most appropriate visa route for him, Rohit requested the full support from our specialists to complete the entire UK visa endorsement application process. Due to our teams' expertise with the Global Talent visa requirements and strict criteria that Tech Nation sets out, we were rewarded with approval upon first application attempt.
"I really appreciate everything that Navin and the T1Digital team has done for me and would strongly recommend them for their specialist guidance and brilliant support with applying for UK global talent visa endorsement."
Known as "a self-aware entrepreneur with an eye for product development based on client feedback", Rohit's professional capabilities, business acumen and intuition as well his technical skills and can-do positive attitude, are very much in demand across the digital technology space, and we are very proud to have supported Rohit in achieving this fantastic result.
Contact us for a FREE CONSULTATION to discover your opportunities
in the UK's booming technology industry:
We will always…
provide clear guidance and advise on whether you have the potential to meet the strict criteria set by endorsing bodies across the United Kingdom's Global Talent visa, Start-up visa and Innovator visa programmes.
Just send us an email, give our experts a call or chat with us via WhatsApp today.
Check out reviews from other happy clients and follow us on social media at