Admirable and Inspirational Product Leader Celebrates UK Tech Nation Visa Achievement
Mr Goel is a highly motivated, independent digital and product professional in E-commerce, Global Logistics and Fast Moving Consumer Goods. He is experienced in managing complex and multi-geography products, programs and tech portfolios, and is a strong product builder and with ability to conceptualise and deliver green field products solving perplexing customer challenges.
Over the years, Mr Goel's roles have involved numerous areas and disciplines, including (but not limited to):
launching supply chain capabilities
scaling international logistics networks
identifying new tech-products
delivering strong business growth of Biztechs
leading digital transformation and convergence initiatives
enabling partner and customer growth programs
offering best in class SPX and cost-efficient operations
developing and deploying multiple modules and billing solutions
influencing seller lifecycles
defining benchmarking programs and Core Attribute Quality (CAQ) as a standard metric
providing crucial and essential Business Intelligence
leading talented teams hundreds of associates owning multiple processes, such as product creation and catalogue maintenance, resolving and eliminating supply chain defects, ensuring timely vendor payments and enhancing Customer Experience (CX)
With a clear grasp of cutting-edge digital, web and analytics/ML technology trends for distributed (multi-cloud) environments, Mr Goel's highly respected and hands-on expertise on Agile and pioneered hybrid project management frameworks is sure to help him achieve exponential career results in the future.
"I am extremely proud of my team for this brilliant achievement and fast work! Within just 5 weeks we completed the endorsement application for this gentleman who was a referral from another successful applicant. It is an absolute pleasure to be able to assist such a remarkable individual and to help him realise his dream of contributing to the UK's digital tech economy!"
This Exceptional Talent Global Talent visa endorsement application was swiftly approved by Tech Nation thanks to our team's fantastic expertise of the intricacies involved and knowledge of the UK's tech market.
With Mr Goel's supreme talents and quantifiable skillset highlighted, our specialist team ensured that every detail in the application documentation was perfect. Our due diligence was rewarded with an approval upon the first application.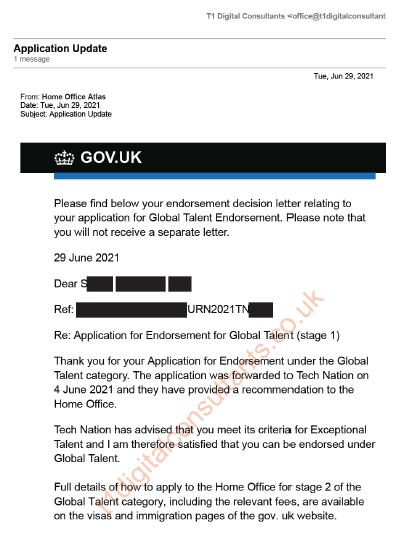 "Thanks for all your help, this wouldn't have been possible without you and your team."
Discover the opportunities that may be available to you in the UK, by sending us an email or by giving our experts a call today. Alternatively, send a WhatsApp message to our friendly team now.
We provide clear guidance and can advise on whether you have the potential to meet the strict criteria set by endorsing bodies and the Home Office.
To discover our time saving, peace-of-mind giving end-to-end services, and successful track record, contact our friendly team for a free consultation:
Check out reviews from other happy customers and follow us on social media at