Visa Endorsement Approval for Strategy and Operations Director and Forbes Achiever
Mr. Aurko Bhattacharjee is a a Director of Strategy and Operations with seven years of expertise scaling digital businesses, investment banking and product strategy across organisations.
Most recently, Aurko led Oyo Hotels & Homes' Covid-19 response communication with stakeholders across multidisciplinary teams. He also drives collaborations with academic institutions, such as Harvard University, and due to his tireless dedication, this year, Aurko was included in the Forbes India 30 Under 30 list.
Over the years, Aurko has successfully grown digital companies with complex business models and multi-geography teams to sustainable growth. He has led millions of dollars in value creation through innovative digital transformation projects and has managed successful capital market deals for leading MNCs whilst leveraging commercial and technical expertise to create economic opportunities and solve critical problems with cutting-edge digital technologies. 
Whilst at Goldman Sachs, Aurko worked across equity raises & IPOs, and debt financings and covered deals worth ~US$15Bn. He was a key member of the firms' corporate social awareness funding programmes and secured a $75K grant for Mumbai based non profit, Educate Girls. Aurko also had roles within Operational Redesign, Digital Transformation and Innovation-Industrialization.
Before joining such a prestigious firm, he had a R&D role within Honeywell following his graduation as an electrical and electronics engineer from Manipal University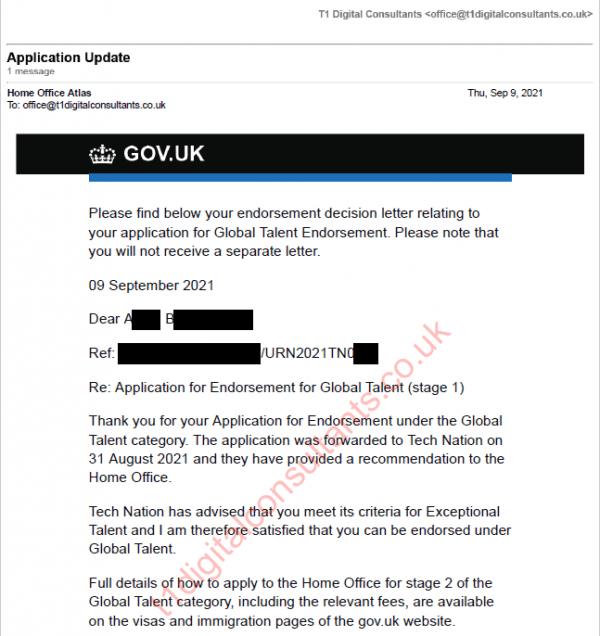 Our team of UK Global Talent visa endorsement specialists knew exactly how to best showcase Aurko's brilliant skills and fortunately our due diligence and years of experience was again proven invaluable as the first application was approved without issue.
"I highly recommend the T1 Digital team for their professional and experienced approach to immigration applications. The team demonstrated quality of expertise and determination to get the desired results. It was outstanding. I am grateful for their effort and guidance through the process, particularly the client focus the company offers. They have always been super approachable with prompt replies to calls/emails and I really appreciate that fact. Thank you Navin, Sarah and Camilla for all the incredible support and guidance."
Aurko's ability to have a significantly positive impact upon business growth, team management and mentoring, will undoubtedly see him flourish within the UK's economy in the years to come and we wish him of course all the very best.
Contact us for a FREE CONSULTATION to discover your opportunities in the UK's booming technology industry:
The T1 Digital Consultant's promise:
To provide clear guidance and advise on whether you have the potential to meet the strict criteria set by endorsing bodies across the United Kingdom's Global Talent visa, Start-up visa and Innovator visa programmes.
Find out more an email, give our experts a call or chat with us via WhatsApp today.
Check out reviews from other happy clients and follow us on social media at