Global Talent Visa Endorsement for a Front-End (UX/UI) Designer & Developer
We are extremely proud to announce that we received an Exceptional Talent visa endorsement from Tech Nation for the UK's Global Talent Visa.
On the 13th of May 2022, a resident of Singapore, Mr. Gopinath Krishnamoorthi, was endorsed by Tech Nation as an Exceptionally Talented individual.
Mr. Gopinath is a Senior User Experience (Front-end) Designer cum Developer, Design Thinker with 17+ years of professional experience, specializing in the creation of user interface design solutions for Banking, IoT, retail sector and software industries. An energetic, confident and client focused IT professional now working as a Senior Application Developer (UX/UI) in Standard Chartered. Gopinath is responsible for all aspects of solution delivery from concept, through to design, development, and user experience.
Mr. Gopinath aspires to create a state-of-the-art incubation center to groom a pool of talents from university graduates or dropouts and engage in creating cutting solutions. He like to think of it as a lab for junior practitioners who want to fast track their access into careers in this field, quickly acquiring the relevant skills to be ready for the future challenges.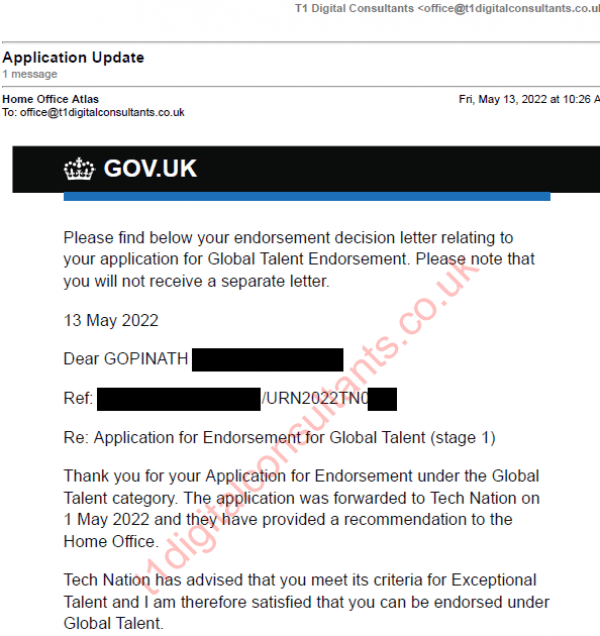 Thanks to our specialists being very well versed with the Global Talent visa endorsement requirements and strict criteria, we were able to complete the end-to-end application preparation and then the approval decision was delivered by the UK Home Office in less than two weeks.
" Million thanks for you and your team effort, you made my dream come true.
I appreciate your teamwork and the kind of support provided."
Be like Mr. Gopinath and request a FREE CONSULTATION today!
With our help, your UK Global Talent visa endorsement application may become the next quick-win approval! 
We promise to always…
provide clear guidance and advise on whether you have the potential to meet the strict criteria set by endorsing bodies across the United Kingdom's Global Talent visa, Start-up visa and Innovator visa programmes.
Just send us an email, give our experts a call or chat with us via WhatsApp today on 0044 207 993 6286. 
Check out reviews from other happy clients and follow us on social media at