A senior scientist with over 16 years of expertise in the HealthTech sector endorsed by Tech Nation for a Global Talent Visa
An Iranian citizen with over 16 years of rich experience in Management, Sales, Mentoring and Solution Delivery. Forward-focused technical engineer and innovator worked as an R&D engineer, published more than 100 papers in international top-peer reviewed journals and conferences. He has supervised more than 30 postgraduate students with their research projects.
Outside of his usual professional responsibilities, he has had a significant impact on both the digital communities. He advised students to choose their field of work and speciality, and coached them through the many methods and resources available to help them enhance their practical abilities. Coached and counselled several digital start-ups on how to design digital learning packages and unique devices. His publications and lectures have been used as educational materials and various assessment resources.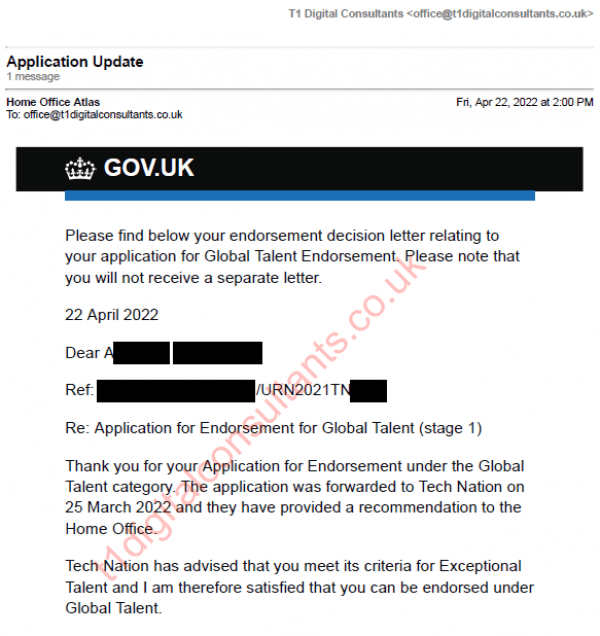 By phone, email and video conversations – our knowledgeable and trusted team of visa endorsement specialists worked hand-in-hand to ensure that all of his best achievements were showcased most effectively whilst guiding him through the entire application process, from start to finish, so that all of the Global Talent visa criteria and requirements were effectively fulfilled.
We were especially pleased to have been able to assist such an impressive scientist with his application as his personable values for helping others match our own and we are proud that our team were able to earn the endorsement within a relatively short timeframe.
"Those interested in applying through the Global Talent pathway should strongly consider T1 Digital. Navin is a fantastic and well-informed advisor. He prepared my endorsement application professionally and fast, and it was approved in just a few weeks. I appreciate his assistance and suggestions."
Naturally, we are extremely grateful for this wonderful feedback. We look forward to cheering him on throughout his career as he sets out assisting in the implementation of digital solutions to medical technology in the UK
Do you need a visa endorsement from Tech Nation?
Click below for a FREE 30 MINUTE DISCOVERY CALL
Our promise to you:
We will provide clear guidance and advise on whether you have the potential to meet the strict criteria set by endorsing bodies across the United Kingdom's Global Talent visa, Start-up visa and Innovator visa programmes.
Find out more an email, give our experts a call or chat with us via WhatsApp today at 0044 20 7993 6286.
Check out reviews from other happy clients and follow us on social media at