Forbes 30 under 30 filipino female techpreneur reaps rewards from our trusted UK visa endorsement expertise
Ms. Valenice Balace is a talented female consumer tech entrepreneur and one of the first Asian women acknowledged by Forbes 30 under 30. Ms. Balace was also the first female CEO and founder to be accepted into Google Launchpad Accelerator in San Francisco from South East Asia. She is also featured by the Women Economic Forum and is amongst other female leaders from her homeland paving the way for more successful and influential Filipina business women.
Despite her young age, Ms. Balace has been a savvy entrepreneur for more than 14 years and has worked as a Product Developer and Manager for the past 12 years both for corporate and her own start-up. She has successfully developed and launched around 50+ websites and applications to date independently and with different teams from the Philippines, India, Singapore, China, Vietnam, Thailand, USA, UK and Hong Kong. This impressive business woman graduated in Manila in computer application and has also developed two patents.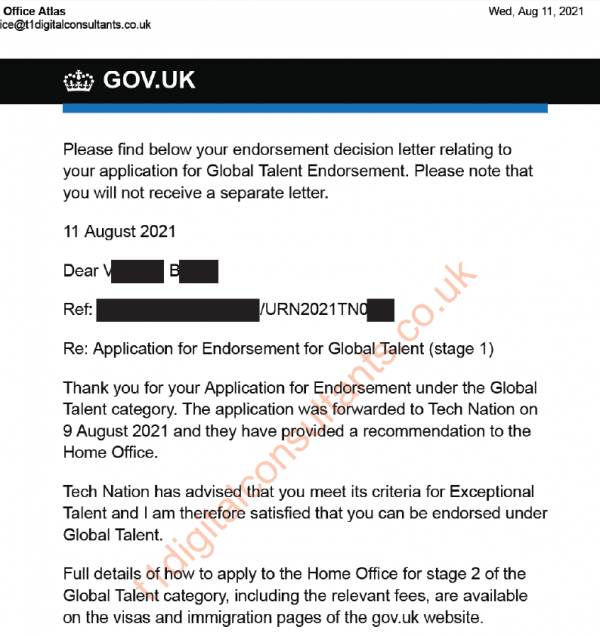 After Ms. Balace's arduous online search for guidance on how to successfully complete the UK's Global Talent visa application, she approached our team and following the initial consultation, booked our end-to-end service.
"I started researching the Global Talent visa application steps, but I ended up wasting months searching for the right information and watching videos trying to figure out the correct way - but I didn't get anywhere.
It wasn't until I contacted Navin and his team that I was able to break it all down, do the necessary steps and understand which documents were most appropriate to submit with the application (as you're limited to 10). I wouldn't have known 80% of what to do had I not received the help and guidance from the T1 Digital Consultants' experts who were always readily available to answer my questions when I needed them. They reviewed all of my documents, advising which elements to develop and which references to use. They were patient and very accommodating and the structure, templates and support was exceptional! I could call or text them at any time which was great for me because I wanted to submit my application as quickly as possible. I thought the application process would take five to eight weeks, so I was really surprised when we received my endorsement letter within two days! Now I can continue the process and get my passport stamped and apply for my immigration card. I am so happy and grateful for Navin and the T1DC's team, the service is really worth the money and I would highly recommend that you engage with them for this process."
Now, with the backing of Exceptional Talent under the Global Talent UK visa programme, Ms. Balace will complete her journey to move to the UK in order to further enhance her unique digital solution experience in the consumer market whilst expanding her business network across the nation and Europe.
Speak with our friendly team today to guide you in your UK visa application:
Enjoy a free initial consultation to discuss the opportunities that may be open to you in the UK today.
We promise to always provide clear guidance and advise on whether you have the potential to meet the strict criteria set by endorsing bodies across the Global Talent visa, Start-up visa and Innovator visa programmes.
Just send us an email, give our experts a call or chat with us via WhatsApp.
Check out reviews from other happy customers and follow us on social media at