Award winning female Digital Expert gains Tech Nation Exceptional Talent endorsement for UK visa
Dr Madhura Shivaraju is an eclectic researcher in the Internet of Things (IoT), Digital Signal Processing, Artificial Intelligence (AI), Deep Learning, Sustainable Technologies, Electronic Engineering, and Machine Learning (ML) with more than 11 years of multi-faceted experience in building large-scale real-time simulations on FPGA, Arduino and Raspberry PI.
As a Research Fellow and owner of a Ph.D from the Visvesvaraya Technological University (Belagavi, India), Madhura has the ability to drive multiple research projects from ideation to end product. She has designed a solution targeted at smart city development and energy optimization systems, and has contributed application ideas within other technology areas such as healthcare, banking and public sectors.
Madhura is a seasoned public speaker at industry events and research outcome presenter for top peer reviewed International journals (including Elsevier) and conferences. As well as being recognised for her significant contribution to academic institutions, she is part of decision making teams for innovation and sustainability centres such as the RV Institute of Technology and Management (RVITM).
Combined with her analytical mind and knowledge, Madhura can deliver deep insights about conceptual and industrial needs to senior decision makers of technology departments (such as CEO, COO and CFO types).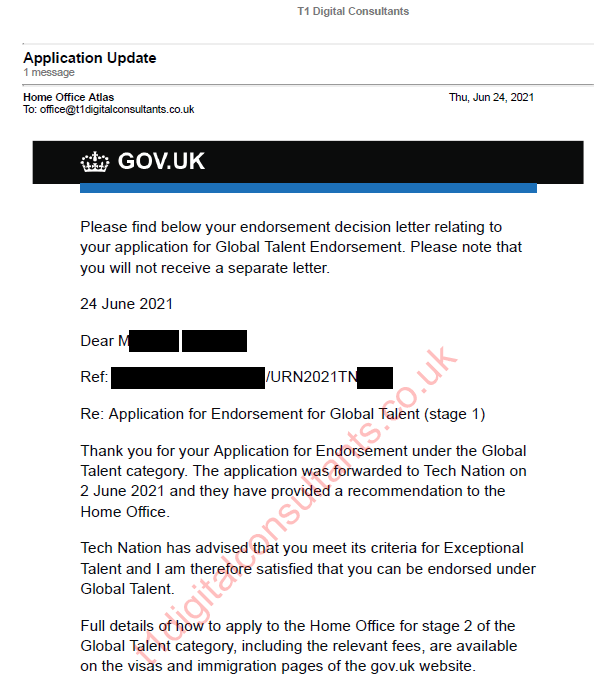 Due to our team's auspicious knowledge of the Tech Nation Global Talent visa endorsement application process and the UK's tech trends and market opportunities, we were able to swiftly transition through each stage. 
By featuring key aspects of Dr Madhura Shivaraju's brilliance, and by ensuring that each and every detail in the application documentation was absolutely correct, our expertise was rewarded again with this fantastic result just 6 weeks following our initial consultation.
"Led by Navin Singh, T1 Digital Consultants is a team of thorough professionals. I appreciated the detailed knowledge that Navin has of the Tech Nation criteria, he was confident and recommended which 2 optional criteria I needed for my application. This gave me the confidence and subscribed to T1 Digital Consultants Service. From then it's all history, I was guided at every step, be it choosing the referees for the support letter or drafting the letter in-line with the criteria. T1 Digital's team reviewed our letters and provided a swift response every time I submitted the documents for review and appraised me on the gap in the letters that enabled me to update to the desired content. Navin reviewed the final pack of all my documents and provided the consolidated feedback that enabled me to highlight great aspects of my work and that are relevant to the application. The T1 Digital were incredibly helpful with their guidance and I would highly recommend T1 Digital to be effective through the Tech Nation endorsement process."
Discover the opportunities that may be available to you in the UK, by sending us an email or by giving our experts a call today. Alternatively, send a WhatsApp message to our friendly team now.
We can guide you through the process and provide advice on the paperwork required, as well as tell you whether you have the potential to meet the strict criteria set by endorsing bodies and the Home Office.
To discover our time saving, peace-of-mind giving end-to-end services, and successful track record, contact our friendly team for a free consultation:
Check out reviews from other happy customers and follow us on social media at