Exceptional Global Talent Endorsement Won for a Solution Architect
A seasoned Solution Architect from India, our client's speciality lies in in scaling digital businesses and implementing transformations and IT changes for many organisations.

From architecting solutions to leading product delivery in the financial services market; Tejaswini is delivering value across the spectrum from digital strategy, process re-engineering and systems integration to infrastructure and technology operations in the cloud space.

She has automated the claim process for a major Indian Insurance, winning and leading a $1 million breakthrough project. The cloud-based product offering has been sold to another insurance company in India to cover routine health checkup costs.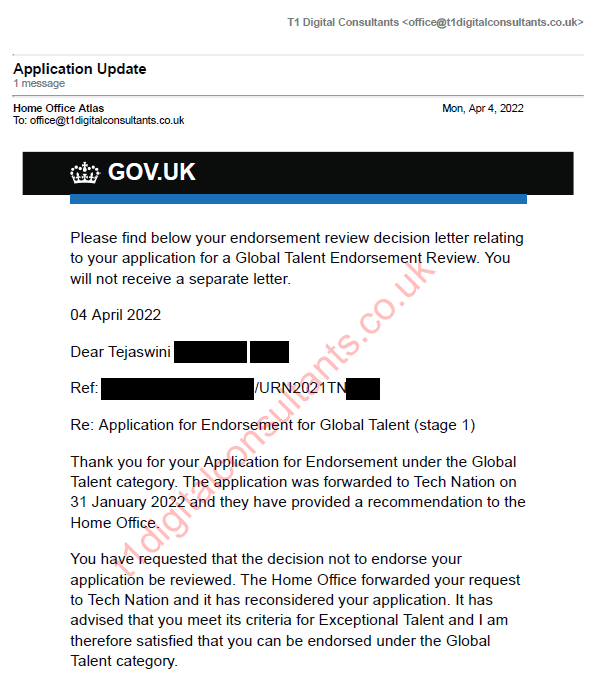 Following the disappointment of having her first endorsement rejected by The Home Office, this supremely talented specialist worked with T1 Digital team to review all application documents to ensure that they highlighted her impressive achievements whilst providing reassurance on how they would benefit the UK economy.
In addition to closely working with Tejaswini to refine her CV, verify recommendation letters and professional industry references, T1 Digital collated all the required documentation and following some final QA checks, submitted the application in full. Just few weeks later, the positive news was received and Tejaswini may now pursue her wish of developing her career in the digital sector in the UK.
"I want to express my gratitude to you from the bottom of my heart for all of your assistance in obtaining the endorsement for Global Talent Visa. The method you've established is well-organized, structured, and streamlined, making the entire experience stress-free. The level of professionalism you bring to the table is commendable. T1 Digital Consultants is highly recommended for the Global Talent Visa; without them, this would not have been feasible. Thanks also to Camilla; T1 Digital is defined by the word "impeccable"! I hope to see you all in the UK, and if you want to raise a glass, the treat is on me!"
Since pandemic, the opportunities to earn Global Talent visas has become even more competitive and we're hearing from many people now, just like Tejaswini, whose application has been rejected but don't want to give up on their dreams without at least trying again.

There are numerous areas within the application process where it can be easy to trip up if you're not well versed in the process, or if you don't have the know-how and experience to confidently complete the documents to meet the expectations of endorsing bodies such as Tech Nation.
So, if you get stuck with your application or have been rejected, get in touch today with our team to discuss your next step: