In this article, T1 Digital Consultants provides an overview of what the UK Innovator Visa is, who could benefit from it, why an endorsement is invaluable, as well as a couple of funding considerations and other essential advice…
What Is the UK Innovator Visa?
As of March 2019, the Tier 1 Entrepreneur Visa program was shut down and replaced with new visa programs aimed at spurring innovation and economic growth in the UK. Along with the UK's transition into the world's hub for tech companies (replacing the US's Silicon Valley) comes the allure of investment capital.
In other words, money.
First, the Global Talent Visa became a way for highly-skilled professionals to reside in the UK, based on their endorsement in specific, high-demand industries. The Start-up Visa was then launched to provide a route for first-time business owners with an innovative, viable, and scalable business plan to gain residency. And the Innovator Visa, while being similarly aimed at entrepreneurs, is now accepting applications from business owners who have a proven track record and £50,000 of initial funding available.
All of these visas have stringent endorsement requirements, meaning that each applicant's documentation must be assessed by one of the endorsing bodies approved by the UK Home Office.
"Hiring a consultant can give you peace of mind, letting you rest assured that your business proposal is not only competitive, but has the best possible chance of being approved."
Why does an Innovator Visa application need endorsement?
As is mentioned in the language of the UK Innovator Visa's official description, all business plans must be innovative, viable, and scalable (more on this below). 
Endorsing bodies are a collective group of successful business-owners and executives of a variety of organisations and professional portfolios that are tasked with applying their expertise and experience to assess the viability of submitted business plans and scale-up concepts.
The approval of an endorsing body is so vital to the process and ultimately the visa's approval, that many people rely on an endorsement consultant to ensure a verified and successful application. At T1 Digital Consultants, we are confident in our ability to deliver positive results, that we offer an end-to-end service with a "No Win, No Fee" guarantee.
Benefits of the Innovator Visa
There are certain benefits to the Innovator Visa that aren't part of the Start-up Visa's program, namely the length of residency and unlimited extensions. To be a little more specific:
3 years of residency with the approved Innovator Visa
Upon expiry, applicant can request a 2 year extension
There is no limit to how many times you can extend
Your dependent family members can join you
Once you've been in the UK for 5 years, you can apply for permanent residency (Indefinite Leave to Remain)
The most obvious benefits to the Innovator Visa may be related to residency, but that is far from the greatest of its' benefits. 
Whilst 
some people
see it as unlikely that business-owners meeting the requirements will even be interested in the Innovator Visa, we aren't so sure. See, the endorsing bodies aren't allowed to charge for their endorsement, but they do stand to benefit from their position as an endorsing body.
While the details of any business operation are complex, this is achieved mainly by offering applicants capital for accelerating the scale-up of their business, usually in exchange for a percentage. For instance, here's what Seedcamp has to offer:
"We will lead your pre-seed round with investment of around £200K,
usually in exchange for an ownership stake between 6% – 7%."
Source: Seedcamp FAQ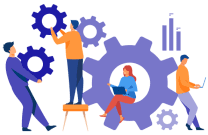 You may be pleased to know that...
… our trusted visa endorsement specialists have already worked with several business owners that were interested in obtaining venture capital, particularly in the tech and FinTech industries, where having capital on-hand translates into instant scalability.
UK Innovator Visa Eligibility
In addition to the general UK Visa requirements, applicants for the Innovator Visa must meet other specific criteria in order to be approved. 
Applicants must be at least 18 years old
Applicants must reside outside EEA or Switzerland
Innovator Visa applicants must verify £50,000 of available capital for use towards their plan
All applicants must be endorsed by one of the endorsing bodies approved by the Home Office
Applicants need to be fluent in reading, writing, and speaking the English language
Applicants should be able to support themselves (outside of their £50,000 start-up funding)
There is an exemption for the start-up funding in cases where an applicant's business is already established and approved for other visas
According to the Statement of Changes in Immigration Rules (Appendix W: Immigration Rules for Workers), which lays out the March 2019 changes to the UK immigration and visa policy, the terms are set forth in simple language:
"If the applicant meets the requirements, the application will be granted.
If the applicant does not meet the requirements, the application will be refused."
This document is invaluable to understanding the complexity of the policy changes, and given the straightforward nature of the above, establishing eligibility becomes paramount to the would-be visa applicant.
Notably, entrepreneurs and business owners lack the sponsorship that is usually associated with immigrating and visa application. They are generally not going to take a job, but to create them. This is something that has long needed dealing with in the policy, and this is essentially the role of endorsement in determining eligibility.
According to that same document: 
If the applicant is relying on endorsement under the new business criteria, the endorsement letter must confirm both of the following:
(a) The applicant's business venture meets all of the requirements in the table below:
The applicant has a genuine, original business plan that meets new or existing market needs and/or creates a competitive advantage.
The applicant has the necessary skills, knowledge, experience and market awareness to successfully run the business.
There is evidence of structured planning and of potential for job creation and growth into national and international markets.
(b) The endorsing body is reasonably satisfied that the applicant will spend their entire working time in the UK on developing business ventures.
To put it bluntly, your Innovator Visa eligibility ultimately rests on getting an endorsing body to consider your business against the 3 cornerstone criteria (innovation, viability, and scalability), each of which have their own specific metrics of judgment, as well as convincing them of your commitment towards making your business a successful "UK enterprise".
Innovator Visa Endorsement Requirements
It doesn't take much poking around to discover that the business visas have a reputation for being difficult to get approved. The Innovator Visa in particular has "drawn a line in the sand" with the minimum investment requirements. Fortunately, this investment can be validated in many different forms.
Unfortunately, navigating the specifics of the changes to the UK policy and submitting an application packet to the right endorsing bodies with the right presentation takes work. A lot of work. Doing it all yourself can amount to a full-time job; several of them, in fact.
This is what makes endorsement consultants such a popular choice. The best endorsement consultant groups are a team of business experts with a diverse background and network. T1 Digital, for example, has a long-standing reputation for getting UK Visa applications approved and long-term working relationships that translate into getting the best deals in pre-seed negotiations with endorsing bodies.
Also, according to the aforementioned "Statement of Changes",
the evidence the applicant has submitted and its credibility
the applicant's previous educational, work, and immigration history
declarations made to other government departments regarding the applicant's previous employment and other activity in the UK
any other relevant information
The first two of these essentially boil down to accuracy in your paperwork, but don't underestimate the trouble that discrepancies can cause. In the best of scenarios, they contribute to massive delays and holdups. In the worst, they lead to immediate rejection.
The third can provide some tricky situations for some business owners that have prior dealings with the UK. Outstanding taxes, for example, could end up having an adverse impact on an endorsement decision (which is yet another reason to use an endorsement consulting service).
And finally, the "other relevant information" category is the most vague, yet gives us considerable room to work. By submitting Letters of Evidence that provide further context into not only the applicant's business experience, but the entire spectrum of their knowledge, skills, and abilities, we are able to establish viability of a candidate for the Innovator visa far beyond what is generally expected.
The Innovator Visa also has unique requirements regarding "maintenance funds", which are essentially the personal finances an applicant plans on using to support themselves and their dependent family members.
The rules for maintenance funds are as follows:
The applicant must have at least £945.
If a main applicant and their partner or children are applying at the same time, there must be enough maintenance funds in total, as required for all the applications, otherwise all the applications will be refused.
The funds in above must be held in a personal bank or building society account, where the applicant is the account holder (or one of the account holders in the case of a joint account).
Where the funds are in one or more foreign currencies, the funds will be converted to pound sterling (£) using the spot exchange rate which appears on oanda.com for the date of application.
The funds must have been held in the account for a consecutive 90 days, ending no earlier than 31 days before the date of application.
The funds will not meet the maintenance requirement if any of the following apply:
The funds are in a financial institution listed in Appendix P (since deleted) of the Immigration Rules.
The funds are not in cash. The decision maker will not accept evidence of shares, bonds, credit cards, overdraft facilities or pension funds.
The applicant was in the UK illegally, or in breach of their leave conditions, when they obtained any of the funds.
Getting the Right Help with Endorsement
Our team at T1 Digital Consulting has been helping people get their visa endorsement applications approved since 2016. We've successfully navigated hundreds of end-to-end applications for the UK's popular Global Talent Visa program, and our "No Win – No Fee" guarantee is proving rather successful for Start-up Visa and Innovator Visa applicants.
Ultimately, getting an Innovator Visa endorsement is far from a simple task. Of the 33 approved endorsing bodies, there are a limited number that accept applications for Innovator visas. Fortunately for you, our team has extensive industry and market expertise with years of experience in business launch and growth opportunities.
We love helping talented individuals from all over the world discover their career and personal progression opportunities in the UK.
Don't let the paperwork get in your way,  just contact our trusted specialists for a free consultation today – we are available to answer any and all questions you might have about UK Innovator Visa endorsement.
Speak with our UK visa endorsement specialists to find out more about which UK visa could suit you…